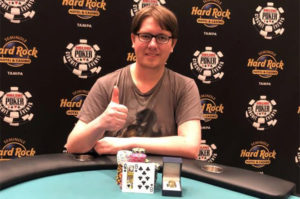 The $1,700 Main Event, which officially concluded the World Series of Poker Circuit Seminole Hard Rock Tampa, wrapped up on Monday, after a long couple of days. The number of entries was 1,162, making this Main Event massive.
However, one player managed to beat them all, becoming a new star on the poker sky — Isaac Kempton. He managed to win the biggest part of the prize pool, earning a total of $290,974. Apart from a hefty prize, Kempton also received a coveted gold ring, which is usually awarded to all WSOPC event winners.
Yet, one of the most important prizes is winning a seat for the 2020 Global Casino Championship, which will gather the best poker players from all over the world.
Kempton is not really experienced, as this is his second live tournament. Despite that, he managed to end both Day 1 and Day 2 as a chip leader, winning the title in the end. In other words, he dominated all the way through the Main Event, with no worthy opponent in sight.
One of the reasons why he was so successful is that he devoted a lot of time to honing his poker skills. Only when he was completely ready did he decide to test himself in live poker. It seems that he has done an outstanding job of learning how to play the game.
According to him, his love for poker started four years ago, when he started his college career. He started watching High Stakes Poker shows on YouTube and "fell into the rabbit hole." After that, he started thinking that something like that could be great and that he would like to take a shot at playing poker.
It seems that Kempton is getting more serious about the whole poker think, but his college career might suffer because of that. If he decides to become a full-time poker player, the world of poker might actually see a new start rising very soon.
The Final Table — Players Who Made It to the End
The last 10 players all returned to the final table, and John Ott from Tampa, Fla., was the first one to hit the rail for $24,353.
He was followed by Fares Santana and Brad Sailor. The two of them won $30,297 and $38,039, respectively. Seventh place belonged to Francisco Gomez, who took home a total of $48,195.
Ioannis Patsourakis from Winter Haven, Fla., ended up sixth for $61,616, and James Calderaro from Venice, Fla., left soon after that with a total of $79,480 in his pocket.
Rober Manjura from Fern Park, Fla., ended up fourth for $103,434, and the last player to hit the rail before the heads-up play was Paul Balzano from Sunrise, FL, who won $135,794.
Finally, Kempton met with David Jackson in the heads-up, but Jackson was no match for his opponent, ending up second with a consolation prize of $179,833.