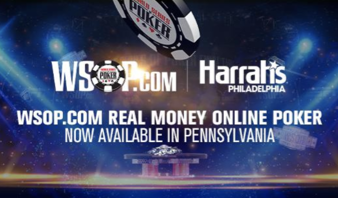 World Series of Poker (WSOP) is not joking with its newest market, Pennsylvania. It is not even two months since it entered the Keystone State, and it has already unveiled four poker tournament series. Now, the brand has unveiled yet another real money poker series for Pennsylvanians.
Several days after competing for the first-ever state-specific online bracelet series, Keystone State has another chance to vie for the WSOP gold ring. The tournament will begin on Friday, September 3, 2021. The PA WSOP Online Circuit consists of 12 circuit events and a cumulatively $360,000 guaranteed prize.
The official announcement about the tournament is not yet out. But, the events are already available on the WSOP PA software.
Each day from September 3, there will be one event starting at 6:30 PM EST. the buy-in for each of these events is a little high, starting from $215 going up to $1000. The matches will run until September 14, with each coming with a guaranteed prize of between $25,000 and $100,000.
More About the Online Circuit
The online circuit will feature several formats, including Pot Limit Omaha, Double and Monster Stacks, Progressive Knockouts, and turbo tournaments. Each of these events will have two or three reentries except for Event 11: $25000 NHL freezeout contest with a buy-in of $215.
The largest event of the series is the Main Event, happening on the last day of the series. It guarantees $100,000 and an entry fee of $525 and up to two reentries. Events occurring on Sunday will award winners not only a gold ring but also get a seat to the 2021 WSOP Main Event.
Another thing that players can expect is the $10,000 leaderboard happening on Sunday, September 17 at 4:30 PM. This feature gives the top ten players a chance to win a ticket from the $10,000. Also, each gold ring winner will get a $25,000 freeroll.
Players who have played at least three ring events will get a seat at the $250,000 Year-End Championship event after playing the Grinder's Only Second Chance Freeroll on Sunday, September 17 at 5:30 PM.
WSOP PA Fourth Tournament in the Keystone State
The upcoming event will be the fourth in just eight weeks. One of the contests is the online bracelet series which ran at the beginning of August. It paid almost $1.5 million in prizes and gave eight bracelets.
Another event is the Progressive Knockout series which was on the WSOP USA, and the Keystone Classic, which had a combined guaranteed prize of $600,000.
WSOP is planning to enter Michigan before the end of the year. Michiganders can expect to see similarly incredible events and promotions as witnessed in Pennsylvania, including an exclusive online bracelet tournament.
Keystone State-Exclusive Online Circuit Series
Pennsylvania-exclusive online circuit series is one of the 2021 WSOP circuits. Due to the ongoing COVID-19 pandemic, the circuit will not tour various physical stops. Instead, it is happening online.
The poker operator announced 13 WSOP Online circuit tourneys this year. Twelve of these were scheduled for Nevada and New Jersey players. The thirteenth event was saved for a new market, which by now we know is Pennsylvania.
Seven online circuit events have already happened. The eighth match, Rio Online Circuit, with a guaranteed prize of $1 million, is scheduled to end today, August 31.