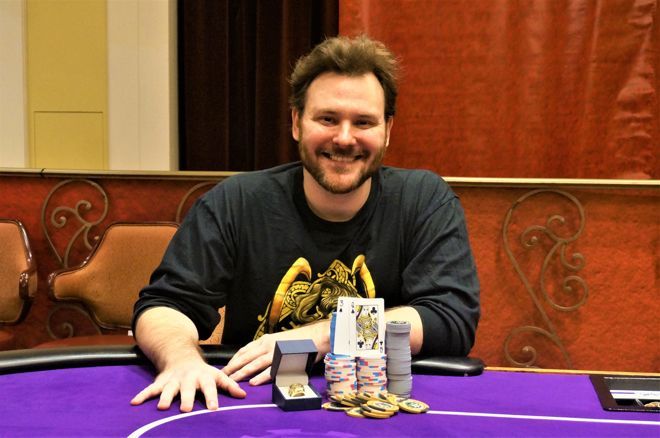 The World Series of Poker Circuit season has officially come to an end for the 2018-2019 season, and it is now the time for the World Series of Poker tournaments to begin. The player who won the last event in the season was Chris Lane, who topped the Main Event at Harrah's New Orleans and won a total of $185,158. Although he considers himself a professional poker player, Lane is also an exceptional graphic designer. By earning a total of $185,158, he managed to double his live tournament earnings, which were approximately $120,000 before winning the Main Event.
This is the first WSOPC ring for Chris Lane, and he already has one HPT trophy that he managed to win in an event back in 2014. Lane was pretty excited about the victory, having stated that cards had never just come to him like that in his previous events. He added that he had started "catching cards left and right." The tournament attracted a total of 582 entries who managed to create a total prize pool of $880,000.
The guaranteed prize was, at first, $750,000, but due to high interest in this tournament and the number of entries, it was increased to offer even more lucrative prizes to those who made it to the cash list. Some of the players that received their rewards but failed to make it to the final table are DJ Alexander, Caufman Talley, Dan Lowery, Kevin Eyster, and Black Wittington. Lane was one of the players with shorter stacks when he started the final table, but he eventually managed to build up his stack and win the event.
The Final Table
The final table consisted of nine players in total, and the first one to hit the rail was Stephen Bierman from New Orleans, Louisiana, who managed to win the minimum prize for final table participants – $17,176. The next one to follow was Allen Brivic from Houston, Texas, who won a total of $21,620. The seventh place was occupied by a player from Meridian, Mississippi called Yousef Saleh for $27,581. William Philips ended up in sixth place and won $35,666, and John Templeton ended up in fifth place. The next player to go out was John Cressend, and he was soon followed by Jon Guidry in third place for $83,747, leaving Dustin Steward and Chris Lane to test each other's skills and luck in the heads-up play.
At the moment the final part of the tournament began, Lane already had a 2-1 chip lead. During the second-to-last hand, the table cards were 7 and two pairs of eights and nines. Stewart held a Queen and a Jack in his hand, only to lose to pocket tens that Lane had in his hand. In the last hand, Stewart was unable to do anything and went all in, only to see himself hit the rail as the second-place player.