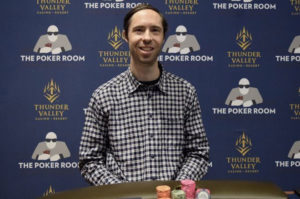 Another World Series of Poker Circuit wrapped up in Thunder Valley on Monday, as the Main Event came to an end. The most important event of the festival attracted 487 players, who managed to create a total prize pool of $737,805.
During the final table, Jaime Haletky took only five hours to emerge a winner and win the prize of $147,706.
Other Prizes For Haletky's Victory
Money is not the only valuable thing that he won. He also received a gold ring, which is a traditional trophy for everyone who wins a WSOPC event.
Finally, Haletky earned himself a seat at the 2020 Global Casino Championship, just like many other WSOPC winners before him. In other words, the 2020 GCC will host some of the best players in the world.
Looking To The Future With The Prize Money
Haletky was eager to share his thoughts and express his feelings about the victory. He stated that he felt amazing. Upon being asked what he would do with the money, he answered that he would just save "towards a house."
Moreover, he added that he would probably use that money for taking parts in events that require "a little bit bigger buy-ins."
This poker lover is actually not a professional player at all. In fact, his primary job is math — he literally works as a mathematician who focuses on cryptography programming.
Passion For Poker
Poker seems to be his passion as he started playing it back in grad school at UC Berkley. He would play poker in his free time, developing the poker skills that eventually brought him a gold ring.
Once you take a look at his score, you'll notice that he actually has a pretty impressive poker résumé. In fact, Haletky managed to win in two events and finish in one in second place.
Looking At His Past Performance
That being said, it's important to mention that he actually made it to a final table three times during his poker career.
His first win was in October 2017, when he managed to win in the Ante Up Norcal Classic $1,100 Main Event, winning $49,865. In 2016, he finished runner-up in the Ante Up World Championship.
The Final Table — Who Else Had Success?
There were a total of nine players who made it to the final table:
The first one who had to say goodbye to the rest was Bryan Picciolo, who won $13,516.
He was followed by Bin Duan for $17,045.
Peter Pap came in 7th for $21,795.
The next player to hit the rail in sixth place was Dann Turner, who won $28,251.
Marcus Laffen was right after that, winning $37,117 along the way
Scott Stewart ended up fourth for $49,418.
The last player to hit the rail before heads-up play was Marko Pantelic, who won $66,663.
Dapo Ajayi was the last opponent that Haletky had to face. Nevertheless, Ajayi had to settle for second place and a total prize of $91,099.