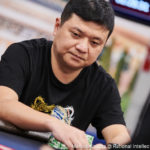 The tournament in Sochi, Russia, has finally come to an end. The 2019 edition of the PokerStars Open ended with the Main Event, which required a RUB133,000 buy-in (which is approximately $2,040).
A total of 879 people applied from all over the world and traveled to Casino Sochi in order to test their luck and skills in the Main Event. A Chinese player named Yi Ye managed to top the field and win a total of RUB19,306000 (around $300,000).
The players created a prize pool of RUB103,370,400, which is about $1.6 million.
Yi Ye is quite familiar with playing poker in Sochi, as he has already managed to cash in a couple of times. He managed to end up in sixth place last year in the inaugural EPT Sochi Main Event. On top of that, Ye also won third place in one of the side events this year in Sochi.
He comes from Chengdu, which is a capital of the Sichuan province in China. Ye has been playing poker for seven years actively, and it seems that he has gotten quite good in this game. Tournaments are pretty new to him, as he decided to start playing them about one and a half years ago.
Before that, Ye was actively participating in cash games. However, it seems that the decision to switch to tournaments was good for him, as he immediately started making a profit from playing poker.
His main goal was to try and win the Platinum Pass for the 2020 PokerStars Players NL Hold 'em Championship (PSPC), which takes place in Barcelona next year. There was this "Moneymaker's Road to PSPC" event, which Ye wanted to take part in, but he was too focused on the Main Event, so he did not manage to compete in this one as well.
The Language Barrier
Since the tournament takes place in a Russian city, it was only natural that the majority of the participants would be Russian. Naturally, Chinese are also welcome to compete, and Ye was eager to test his skills and luck with other poker players coming from other countries.
The problem is that he doesn't speak a word of Russian, which is quite often a huge problem for Chinese citizens who travel to Russia.
The point is — even though he had this huge language barrier, he managed to fight his way through and win the Main Event. It's a great testament that the game of poker knows no barriers and that it speaks more than words.
Poker is a social game, that is true, but people can socialize while playing poker, just on the emotional level. No words need to be spoken in order to have fun while playing this card game.
Yi Ye definitely had fun while he took part in the Main Event, and the fact that he did not know the language was not a problem for him as he managed to win the event in the end.