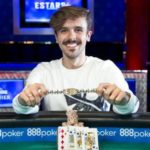 Yuri Martins Dzivielevski is a player from Brazil who managed to win his first WSOP bracelet in an Event #51: $2,500 Mixed Omaha Hi-Lo 8 or Better, Seven Card Stud Hi-Lo 8 or Better. He was obviously very happy about "unlocking" this achievement in his poker playing career, especially because he took more than three days and thirty levels of intense poker play in order to snatch the title. Dzivielevski stated in an interview that the victory was a very special moment for him.
The total of 401 people applied for this tournament, which started on June 22 and managed to create a prize pool of $902,250. The levels of play each lasted one hour, and after ten of those, the number narrowed down to 128 players who were competing for the bracelet. Another ten hours during the second day resulted in only 61 returning to the play and making it to the money list.
The last day of the tournament saw 12 players return, all of them eager to take their shot at the title and a hefty reward of $213,750
which Yuri Martins Dzivielevski snatched in the end.
The Final Table Results
The format of the tournament was somewhat odd as it was split-pot, and it included players from all over the world. All of that meant that there was no definitive leader as the chip lead switched back and forth from player to player. A total of eight players returned to the final table, and it didn't take long for Daniel Ratigan to hit the rail with a total of $17,583. In fact, Andrey Zaichenko, Thompson and Ratigan were all short-stacked and entered a three-hour-long battle to stay in the game, with Ratigan losing it in the end. He was soon followed by a Canadian player called Alex Livingston, who won a total of $23,362.
The sixth place was occupied by Philip Long from the UK for $31,710, and Dan Zack followed him soon as the fifth-place player, winning a total of $43,950. The third place belongs to Andrey Zaichenko from Russia who won $62,176. His fellow countryman, Denis Strebkov, ended up in third place for $89,744, leaving Michael Thompson and Yuri Dzivielevski to battle for first place. Tompson and Yuri had a nearly even number of chips, so a long game was expected from the two players. Thompson was actually the first to play a couple of great hands and become an early leader.
The most important hand in the heads-up happened in Stud Hi-Lo when both players raised in fourth and fifth streets. When they showed their cards, both players had a king-king flush. However, Dzivielevski had higher suits and won the hand, making a serious disbalance in chips (3:1). It did not take long for him to increase the difference to 5:1 as Thompson was obviously starting to lose patience. Eventually, Dzivielevski won and celebrated together with his rail!