The PokerStars New Year Series is almost ending, as three No-Limit Hold'em Main Events were dealt with on January 15.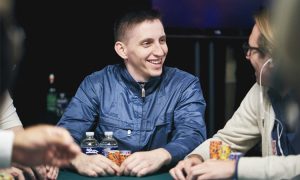 Benjamin "beastishngry" Juhasz was the Pot-Limit Omaha Main Event winner.
The $215 buy-in PLO Main Event attracted 646 entrants who overlaid the $200,000 guaranteed prize pool. But the top 95 players shared the pool.
Some of the players who won money but missed a seat at the final table included Lex "L.Veldhuis" Veldhuis, Johannes "Greenstone25" Korsar, Lucio "WizardOffAz" Lima, "jokkee_apart" and Niklas "Lena900" Astedt.
New Year Series PLO Final Table's Results
Benjamin "beastishngry" Juhasz from Hungary-$34,302
7561363 from Estonia-$24,052
NbL21 from brazil-$16,865
Kenny "SpaceyFCB" Hallaert from the United Kingdom-$11,825
Tom "Jabracada" Hall from the United Kingdom-$8,292
gee-f#1 from Canada-$5,814
rObetOblancO from Austria-$4,634
Four among the top seven finalists made five-figure scores. "rObertOblancO" got busted first at the final table. He finished seventh with $4,634. gee-f#1 and Tom "Jabracada" Hall followed rObertOblancO in sixth and fifth place, respectively.
Kenny Hallaert finished fourth with $11,825, and NbL21 exited the tournament in third place with $16,865. The latter's elimination set up a heads-up battle between 7561363 and Juhasz.
The two remaining players had a $10,000 difference in their payouts and didn't discuss a deal. Yet, Juhasz beat 7561363 and sent them packing with $24,052.
Gavin Cochrane Tops the $1,050 NLHE Event
The $1,050 No-Limit Hold'em event attracted 350 skilled players at PokerStars, who created a $350,000 prize pool.
Entrants like Ivan "Negriin" Luca, Justin "ZeeJustin" Bonomo, Damian "pampa27" Salas, Niklas "Lena900" Astedt, and Matas "bebaimis777" Cimbolas won money.
NHLE Final Table's Results
Gavin "gavz101" Cochrane from the United Kingdom-$55,882
Pedro "gusmaa" Gusmaa from Brazil-$56,560
Heidegger807 from Canada-$35,406
Renan "Internett93o" Bruschi from Brazil-$26,210
Brunno "botteonpoker" Botteon from Brazil-$19,402
Daan "DaanOss" Mulders from Austria-$14,362
Allan "Allan sheik" Mello from Brazil-$10,632
AchoBogdanov from Bulgaria-$7,870
WhatIfGod from Sweden-$6,404
Action at the Table
Each of the nine finalists who reached the final table had an opportunity to win the top prize. But, WhatIfGod, AchoBogdanov, Allan Mello, and Daan Mulders exited the tournament early. Brunno Botteon and Renan Bruschi followed them in fifth and fourth place, respectively.
Heidegger left the table in the third position and set up heads-up action between Pedro Gusma and Gavin Cochrane. Even so, the duo paused playing for a while to make a deal.
Initially, the winner would receive $64,612, and the runner-up would get $47,830. But the deal earned Gusma $56,560 and Cochrane $55,882. This surprised many poker diehards as Gusma finished second.
Additional PokerStars Results
"Harada110" made a $49,045 score that included bounties when they won a $530 NLHE 8-Max PKO New Year Series tournament. "bkzmee" got a similar score after leading in the $530 NLHE 7-Max PKO tournament.
Other results included:
boerni21 won $41,148 in the $530 NLHE 7-Max Turbo PKO New Year Series
Joker1002 received $41,076 in the $530 NLHE 8-Max New Year Series
bombon73 won $36,726 in the $530 Bounty Builder
umvelt900 won $31,434 in the $320 NLHE 6-Max PKO New Year Series
Piquiii received $19,579 in the $109 Sunday Fenomeno
Gobenni won $15,133 in the $215 Sunday Supersonic
Juanki "B4NKR0LL3R" Vecino received $13,153 in a $1,050 Sunday Supersonic
pinguinho cashed $10,080 in the $109 Sunday Kickoff
The New Year Series is almost over. Still, 23 events whose buy-ins range between $2.20 and $2,100 will award their winners soon. Stay tuned for more.
In the meantime, sign up at our top recommended real money poker site and go after your own prize!
Top Poker Rooms
Bet Online Casino

Top USA Holdem Site
Excellent Payment Processing
Play Real Money Texas Holdem
Fast Cashouts

Ignition Casino

Texas Holdem for Real Money
Best Texas Holdem Poker Site
Variety of Poker Bonuses
Very Fast Cashouts

Bovada

Top Real Money Poker Sites
Loose Holdem Poker Games
Fast and Secure Payouts
Large Weekly Guaranteed Tournaments

Bet Online (International)

Top USA Holdem Site
Excellent Payment Processing
Play Real Money Texas Holdem
Fast Cashouts

Sports Betting (International)

Play Poker For Real Money
100% up to $2,500 Bonus
Loose Games
Fast Cashouts