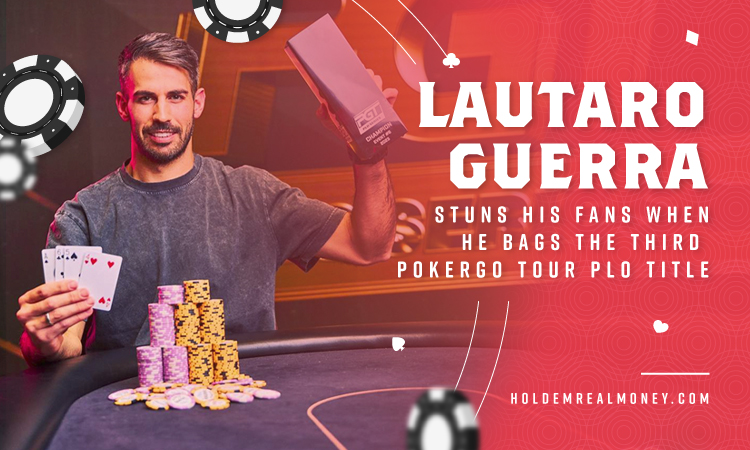 Lautaro Guerra is the most successful player at the PokerGO Tour (PGT) Pot-Limit Omaha Series since he won his third title, a $25,000 Buy-in Championship, and received $518,750. The event had 83 entrants, and ARIA Resort & Casino held it inside its PokerGO Studio.
Guerra has three of the series' nine titles. He told PGT reporters after the tournament that he expected to win one or two titles and was stunned when he won the third title, as it is most PLO players' dream. He praised the casino for organizing thrilling tournaments and commended PokerGO Studio's staff urging other players to sign up for its events.
The poker pro has 774 total points, which helped him lead in the 2023 PGT points competition after surpassing Cary Katz, who has 693 points. Still, Guerra has 2,092 Card Player Player of the Year (POY) points and is in the 17th position on this year's POY leaderboard.
Guerra has played poker for over a decade and specializes in pot-limit Omaha. But he enjoyed playing PLO. The $25,000 Buy-In Championship lasted two days and had a $2,075,000 prize pool. Its 83-entry field was drastically reduced to 16 entrants who advanced to Day 2.
The Final Table's Payouts and Points
Lautaro Guerra-$518,750; 672 POY points and 311 PGT points

Ren Lin-$352,750; 560 POY points and 212 PGT points

Krasimir Yankov-$269,750; 448 POY points and 162 PGT points

Chris Lee-$207,500; 336 POY points and 125 PGT points

Jim Collopy-$166,000; 280 POY points and 100 PGT points

Jose Barbero-$124,500; 224 POY points and 75 PGT points

Josh Arieh-$103,750; 168 POY points and 62 PGT points
Day 2 Highlights
· Lautaro Guerra:
Guerra was seventh in the chip position early on Day 2. But he had improved to third place when the seven-handed final table was set. The player used a nut straight to win a big pot and get the chip lead.
· Josh Arieh:
(Four-time bracelet champion) lost a big pot to Guerra and was the first finalist to leave the table after Krasimir Yankov's nut flush draw, and pocket aces beat his flopped top two pair. The turn earned Yankov the top set and Arieh a flush. But the river failed to help Arieh and ended his run.
· Jose Barbero:
Followed Arieh in sixth place after Yankov's pocket aces beat his pocket kings. Yankov got a heart flush and won the pot as Barbero exited.
· Jim Collopy:
Used pocket aces to move all-in against Yankov's open-ended straight draw and flopped two pairs. The former turned a set of aces while the latter made an ace-high straight improvement. The river didn't turn tables and sent Collopy packing in fifth place.
· Chris Lee:
Chris Lee got busted in the fourth position after he used pocket tens to stake his chips against Guerra's pocket jacks. Unfortunately, the latter made a nut flush and won the pot, thus ending the former's run.
· Ren Lin:
Beat Yankov to get a big pot in a three-handed play. But the latter used A-8-8-7 with ace-high hearts to put his remaining stack against Lin's A-K-Q-J with king-high diamonds. Yankov's pocket pair dominated before a face card landed on the river, eliminating him in the third position with $269,750.
· Heads-up Battle between Ren Lin and Lautaro Guerra:
His exit set up a heads-up battle between Lin and Guerra, with Lin having an over 2:1 stack lead. But Guerra got the lead after making two big double-ups and extended it to more than 4:1 after using a rivered ten-high straight to win a big pot.
All the chips got in on the ADiamond Suit9Spade Suit2Club Suit8Club Suit3Spade Suit board as Lin showed 9Heart Suit9Club Suit7Spade Suit4Diamond Suit and got a flopped set, and Guerra revealed ASpade Suit6Club Suit5Spade Suit4Heart Suit for a six-high straight.
Lin finished as the runner-up with $352,750.
Ready To Win Money Playing Poker?
Join a safe real money USA poker site, and play for a chance to win!