The PokerGO Tour (PGT) is holding its maiden series this week at the ARIA Resort & Casino's PokerGO Studio constituting pot-limit Omaha tournaments.
Its $5,000 buy-in kickoff tournament attracted 200 entrants and was the first PGT event with the most entries.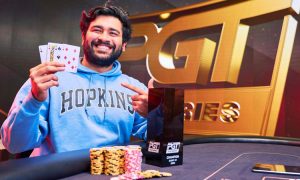 The players formed a $1,000,000 prize pool that the leading 29 finishers shared. Even so, Daniyal Iqbal emerged as the winner taking home the $160,000 top prize and title. The poker player is a Rochester engineer who often plays poker for leisure.
He informed PGT reporters that he likes competing in local PLO cash tournaments. Iqbal's latest victory increased his Card Player Player of the Year (POY) points to 720, and he is in the top 200 positions in the 2023 POY race.
Still, he amassed 160 PGT points, improving his position on the leaderboard to the top 40.
The Top 7 Players' Prizes and Points
Daniyal Iqbal-$160,000; 720 POY points and 160 PGT points

Roussos Koliakoudakis-$120,000;600 POY points and 120 PGT points

Stanislav Halatenko-$90,000;480 POY points and 90 PGT points

Eelis Parssinen-$70,000;360 POY points and 70 PGT points

Peng Zheng-$60,000;300 POY points and 60 PGT points

Jeff Madsen-$50,000;240 POY points and 50 PGT points

Sean Troha-$40,000;180 POY points and 40 PGT points
The Final Day's Highlights
The 200 entrants field drastically reduced to nine players late on Day 1. Iqbal had the largest stack, and he faced several skilled players.
David Williams (World Poker Tour and bracelet champion) left the table in ninth position with $30,000 after Eelis Parssinen's higher pair beat his straight draw and bottom pair, which failed to improve.
Ethan "Rampage" Yau (a renowned vlogger and bracelet champion) followed Williams in the eighth position after Pen Zheng's double-suited pocket kings defeated his pocket aces. Jeff Madsen (four-time bracelet champion) sent Sean Troha packing in seventh place after he beat his pocket aces.
Even so, Madsen later moved all in and faced elimination as his double-suited pocket kings clashed with Parssinen's pocket pair of aces. The latter's larger pair held up and busted the former in sixth place with $50,000.
Zheng exited the tournament in the fifth position after Stanislav Halatenko's wrap and flush draws beat his flopped middle set. The turn revealed a flush and ended Zheng's run.
Parssinen lost a massive pot to Iqbal, who got the chip lead. The former urgently needed more big blinds to extend his run.
Parssinen got aces up from the turn, and the river earned Iqbal a set of nines. The former finished fourth with $70,000 as Iqbal increased his chip lead.
Iqbal's Road To The Title
Three-handed action between Iqbal, Halatenko, and Koliakoudakis kicked off. Halateno used QDiamond SuitJClub Suit8Heart Suit6Diamond Suit to move all-in in his final hand, facing Iqbal's KClub SuitQClub SuitQHeart Suit9Club Suit.
The board revealed 10Heart Suit6Spade Suit2Heart SuitKHeart Suit3Spade Suit as a pair of kings earned Iqbal the pot. Halatenko's third-place exit set up heads-up action between Iqbal and Koliakoudakis.
Iqbal had a 17,700,000:6,500,000 chip lead over Koliakoudakis. Tables turned fast after an early double, but Iqbal regained and extended the lead.
Koliakoudakis held JClub Suit4Spade Suit4Club Suit2Heart Suit when chip got in a 10Spade Suit6Diamond Suit5Spade Suit4Diamond Suit board for bottom set, and Iqbal held AClub SuitQDiamond Suit8Spade Suit7Diamond Suit for a flush draw and eight-high straight. 
Iqbal won the title and pot after 8Heart Suit landed on the board. Koliakoudakis finished second with $120,000.
Ready To Win Money Playing Poker?
Join a safe real money USA poker site, and play for a chance to win!