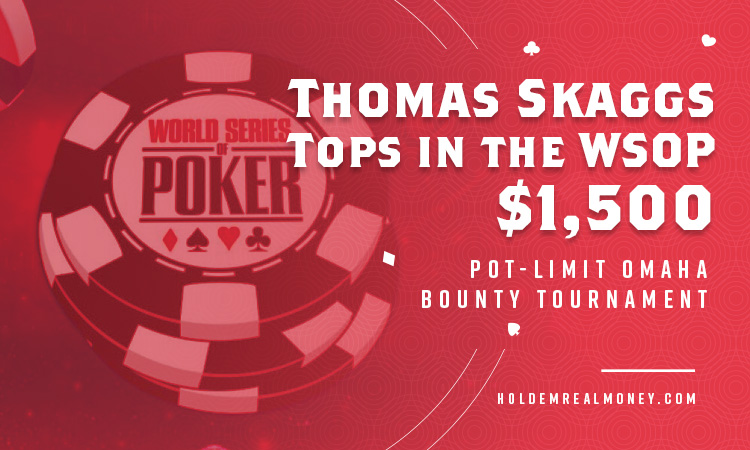 The 2023 World Series of Poker (WSOP) $1,500 Pot-Limit Omaha Bounty tournament lasted for three days and had a 1,214-entry field. The players formed a $1,620,690 prize pool, and the leading 183 players won more than $1,500 each.
Even so, the tournament's money bubble burst on Day 1, and only 140 players advanced to Day 2. Thomas Skaggs was the last player seated at the final table. He bagged $171,742 and his first gold bracelet.
This comes a few weeks after winning a gold ring at the WSOP Circuit Caesars Indiana stop. His recent score is the largest he has made so far in his poker career.
The poker pro informed journalists after his victory that he aimed to win a gold ring or bracelet when the year started. He was thrilled by the two achievements.
What Did the Top Nine Players Win?
Thomas Skaggs – $171,742 and 960 Card Player Player of the Year (POY) points
David Hu – $106,138 and 800 POY points
Satar Al-Sadoun – $75,761 and 640 POY points
Paul DeGiulio – $54,775 and 480 POY points
Yusuke Tanaka – $40,119 and 400 POY points
Vincent Moscati – $29,773 and 320 POY points
Paul Spitzberg – $22,392 and 240 POY points
Noah Schwartz – $17,069 and 160 POY points
Sergio Martinez – Ruiz-$13,191 and 80 POY points
The Final Day's Action Highlights
The field was reduced to 15 players on Day 2, and each of them eyed the top prize and gold bracelet. Even so, some players with deep runs missed seats at the final table. they included Jeff Madsen, Dash Dudley, Daniel Negreanu, and Nacho Barbero
Skaggs was the stack leader when the final table was set, and its action kicked off. Yet, he prolonged his amazing run while some finalists got busted fast.
Noah Schwartz, a talented poker player, exited the event in the eighth position. Satar Al-Sadoun gradually grew his stack and became the chip leader after the final table's first break. Only five players remained in the tournament at that time.
Skaggs lost more chips, and his position at the leaderboard dropped. Luckily, he doubled up Al-Sadoun in three-handed action. Skaggs regained the lead and sent Al-Sadoun packing in third place.
The former had a 6:1 chip lead over David Hu when their heads-up match began. Hu doubled up after several minutes and almost tied with Skaggs in the chip standings before the dealer dealt the final hand.
Even so, Hu used 9Spade Suit3Club Suit2Club Suit to put his remaining stack in the middle of a flop. Still, he had ADiamond SuitASpade SuitQSpade Suit4Club Suit that he faced Skaggs' 9Heart Suit8Club Suit5Heart Suit4Heart Suit with.
9Diamond SuitKDiamond Suit landed on the river and turn, busting Hu in the second position with $106,138. The player has almost $1,000,000 in poker career earnings now.
Ready To Play Poker Online For Money?
Sign up at our recommended online poker sites and play for a chance to win cash.