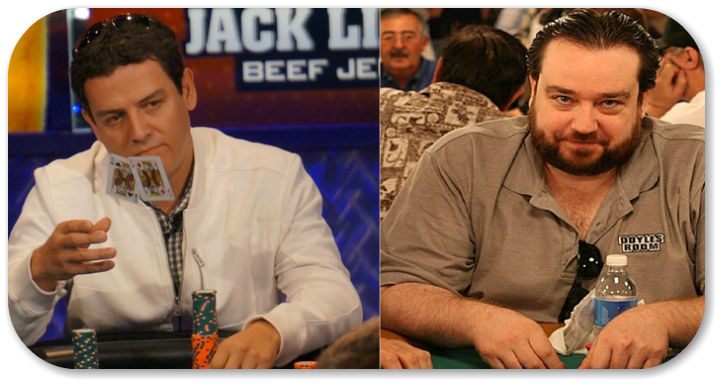 Another two players will be inducted into the Poker Hall of Fame in 2016, Todd Brunson and Carlos "The Matador" Mortensen (the first European to be inducted into the HOF). Both players will be honored at the Poker Hall of Fame induction ceremony, which takes place on Wednesday, October 26, at the famed Longhorn Room at Binion's Gambling Hall in downtown Las Vegas, the original home of the World Series (all the way back in 1970). This will kick off the November Nine festivities.
When it comes to Poker Hall of Fame eligibility, it is hard to determine the achievements of most poker players, because the only public records available are for live tournament cashes.
Carlos Mortensen
In this regard, 44-year-old Mortensen has been one of the most dominant players in the history of live tournament poker. Mortensen, who is the only Spaniard to have won the WSOP Main Event (back in 2012), has amassed $12 million in total live tournament earnings according to HendonMob. To this day, Mortensen is the only poker player to have ever won the WSOP Main Event and WPT World Championship.
"I have been playing poker professionally for more than 20 years. This game has given me so many things that I have come to cherish. I've always wanted to be included among the great players who make up the Poker Hall of Fame. To be included with the legends makes me very happy. I want to thank my friends, the poker fans, and all the people who vote for me. I take this honor very seriously," Mortensen said in a press release.
Todd Brunson
Being in the shadow of his legendary father must be a difficult thing to deal with, but the now 47-year-old Todd Brunson has more than held his own at the poker table. He has consistently cashed at the World Series, and has earned more than $4 million in live tournament earnings. He has also played in some of the biggest live cash games in the world. Playing in a $50,000/$100,000 cash game against Texas banker Andy Beal over 3 days, Brunson won $5 million dollars.
"It's a true honor to be inducted by my peers into this prestigious institution. I literally grew up attending these ceremonies and have always respected and admired its members. To join their ranks is the honor of a lifetime," said Brunson.
Brunson joins his father, Doyle Brunson, in the Hall of Fame, and they're the first father-son duo to become members of this prestigious club. Doyle was inducted into the HOF back in 1988.
The 2016 Poker Hall of Fame finalists included: Bruno Fitoussi, Chris Bjorin, Chris Moneymaker, Eli Elezra, Humberto Brenes, Max Pescatori, Matt Savage, and the late David "Devilfish" Ulliott. The public had voted to get 10 finalists eligible for induction into the Poker Hall of Fame for 2016, and then a panel made up of current Hall of Famers like Doyle Brunson, Daniel Negreanu and Phil Hellmuth, and a panel of media members determined the two new inductees.